Household SEKLER
---
In the village of Rudno, in Golija, the SEKLER household is ran by the diligent housewife Milijana, the winner of the "Flower of Success for the Dragon Woman" award from 2015 and the winner of the first RTS series "The Kitchen of my area" from 2017. She has received many other awards, but most praise from its many guests.
On the plateau above the family restaurant "White acacia", where all the guests eat, there are three chalets for rest and enjoyment, both in summer and winter. They also have a tennis court, a playground for children, and in the winter a beautiful track with an elevator for skiing, sledding and snow games. The village itself is an "air spa" - everyone's blood test results improves here. And the view…reaches the peaks of Kopaonik.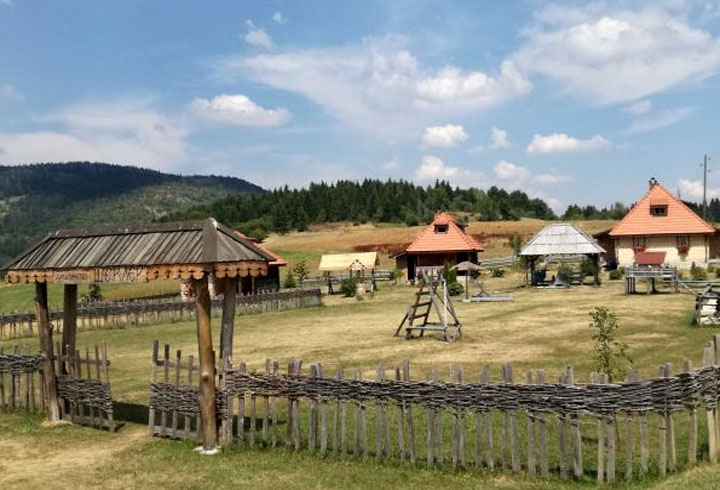 Household VILLA SELENA
---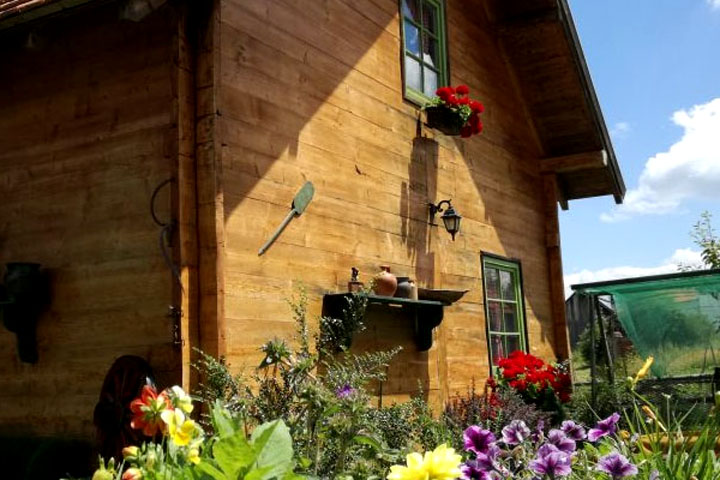 Household of Rasko Milosevic, better known as VILLA SELENA, is ranked very high on all the sites where you can find it. "Old house" and two chalets... "Restaurant" for guests only ... All products on the menu - completely healthy, completely from Rudno... "The rose of winds" with the scent of sea and forest...Guests come according to referral, and whoever comes in, always comes back.
A special feature of VILLA SELENA is its son, Dragan Raskov Milosevic, a host and painter, who finds inspiration in the unique purity of nature on Golija and the rich cultural heritage of Nemanjicdinasty. He is one of the founders of the RUDNO Art Colony.
Chalet ,,Eagle's Nest''
---
Host Predrag - PedaCirovic, is a native from plainSumadija, but long ago fell in love with this plateau. The locals gave him a piece of land in the hill, and for six years he persistently dug a rock to make this viewpoint, from where he looks, through forests and pastures, to the peaks of Kopaonik and Sara mountain…
Next to chalet is a "large terrace", a terrace for barbecue and cauldron, a hidden terrace with sun loungers and a terrace with a telescope, for long distance or starry sky views.
The personality of the host is resourceful in nature. He is a scout, can be a reliable guide to the beauties of Rudno and Golija. At your request, he will prepare various organic specialties.
Boarding house ,,SKY''
---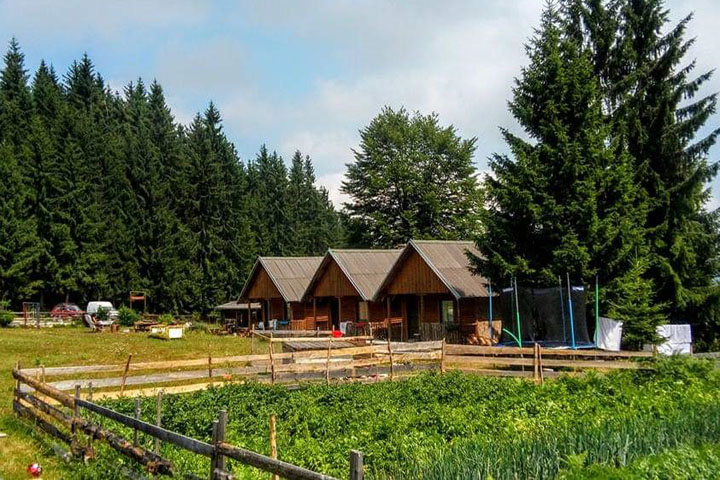 For bright nights at the location of Srnjaca, where sometimes roe deersarrive, you really almost touch the sky with your hand and it feels like the stars shine in your palms. The beauty of this place hides 3 km long macadam road from the center of Rudno village. And then there is peace, interrupted only by the chirping of birds, clean air full of ozone and direct contact with untouched nature ...
The rural household ''Sky'' has three comfortable chalets and a restaurant as a meeting place, and the menu is arranged with guests. Mountain bikes are available in summer, ski equipment and snowmobiles in winter. Household ''Sky'' has 2 ski elevators for children, 80 and 150m.
Ethno village ,,Pearl of Lopatnica''
---
The ethno village named Pearl of Lopatnica is at the entrance to the village of Lopatnica, somewhat 25 kilometers from Kraljevo. It is situated in a very nice place, by the river Lopatnica and surrounded by picturesque meadows and coniferous forest. It is intended for those who enjoy the clean air, the silence of nature, the chirping of birds and the murmur of the stream, active nature holidays, cycling and walking in the clear mountain air.
The complex consists of three chalets and a restaurant serving healthy local food. Each chalet can accommodate 4-6 people, and are sufficiently far apart and have their own enclosed yards, which gives each guest privacy and peace.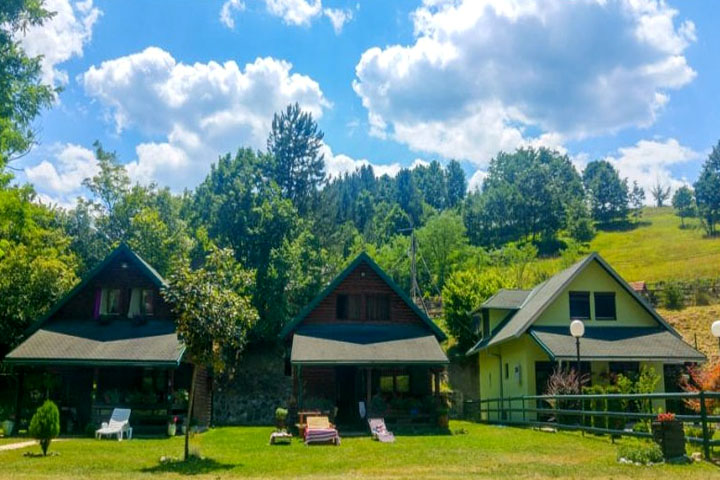 All chalets are air-conditioned and have two bedrooms each located on the upper floor, one with a double bed and the other with two single beds. On the ground floor is a living room with two extra beds, satellite TV, kitchen and bathroom with shower and complete toiletries.
Also, for complete enjoyment in the summer period there is an outdoor pool, which is more like a lake and ideally suited to the natural environment.
The bedrooms overlook to the pool, and in front of the chalet there are lovely porches with tables, chairs and benches, surrounded by flower jardinière, for complete enjoyment. The yard is large enough and safe for children to play.
Free Wi-Fi is also available throughout the complex.
The proximity of the cultural and historical heritage of exceptional value (the Zica monastery, Studenica monastery, Gradac, the medieval town of Maglic) provide the opportunity for excursions and sightseeings.
Service at the ethno complex is either full or half of a boarding house
Contact: tel.063 / 642 334, e-mail: info@biserlopatnice.org, www.biserlopatnice.org
Ethno village BOGUT II cat. (***)
---
In the vicinity of the Valley of the Serbian kings, at the village of Bogutovac, on the altitude of 500 m, three wooden cottages were built which together with old house, restaurant, mini-farm, orchard, a garden and a river beach make Ethno Village Bogut. It is located 24 km away from the city of Kraljevo, on the road between Zica Monastery and Studenica Monastery, and just 8 km away from the Maglic castle.
Fully equipped cottages, with 12 persons to accommodate and 9 beds (3 apartments and one double room) give you an opportunity for comfortable long stay. Every cottage has a private bathroom with a shower bath, tiny kitchen with a refrigerator, a terrace and all conditions for a peaceful vacation away from urban centers. Central heating system and air conditioners give you a chance for yearlong visits.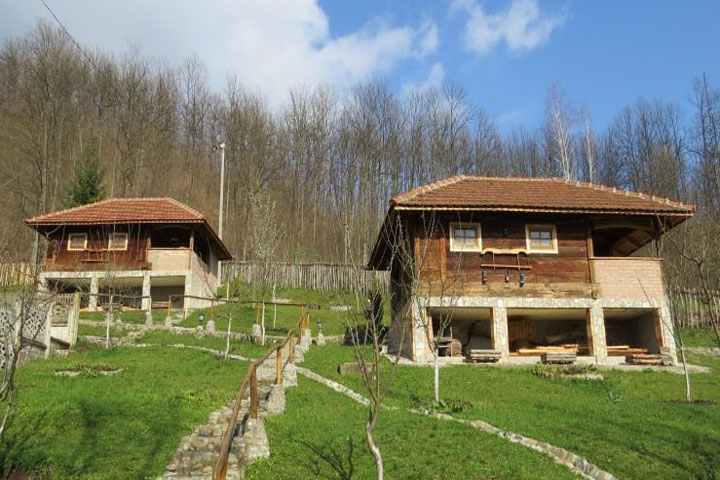 Despite some cars, there is no other source of aero pollution in the nearby vicinity, and smoking in the cottages is not permitted. Existence of the European crayfish is a proof of the cleanliness of water in the river Lopatnica which flows through their household. Free Wi-Fi internet connection available at the restaurant and some cottages.
Mrs Darinka prepares local specialties of Serbian food according to traditional recipes. Food is served at the restaurant with a capacity of 30 indoor places and up to 50 places at the terrace. Fruits and vegetables are mainly from their own garden. They dry and smoke meat, make traditional Serbian drink rakija (Slivovitz), ajvar and other jar products like cucumbers, paprika or sauerkraut... It is possible to organize business lunch, children's birthday or other small celebrations. On the menu they offer mainly national Serbian cuisine products such as: cabbage, beans, sarma (cabbage rolls), goulash, different kinds of a stews and soups, lamb or veal in the earth oven, fried trout fish, roasted lamb or a pig, barbecue, cheese pie, proja (corn muffins), kacamak (maize porridge), smoked meat, kajmak (milk product), seasonal salads from our garden (cabbage, cucumber, tomato, potato, onion, garlic), homemade juice, sweet pie and strudel, sweetspoon, honey, etc.
Authentic Serbian countryside landscape, the dent of the river Lopatnica and a relaxing view over the Troglav mountain with tasty domestic food and comfy accommodation will help you to rest and enjoy Serbia. Welcome to the household of Filipovic family!
Contact:
Desimir;064.54.90.401, Darinka;060.04.26.002, Household;036.426.002, mail:info@etnoselobogut.com, www.etnoselobogut.com
Household MILOJEVIC II category (***)
---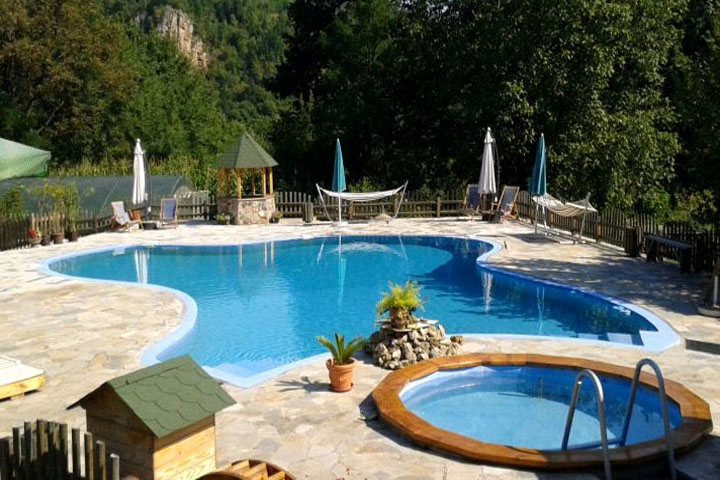 The Milojevic household is located in the canyon of the Lopatnica mountain river, beneath the wooded slopes of the Troglav mountain, 25 km away from Kraljevo. The holiday in this household is intended for those who enjoy the clean unpolluted natural environment, greenery, peace and tranquility, in which only the murmur of water and chirps of birds is heard, as well as in homemade food, prepared according to old traditional recipes. The Milojevic household offers accommodation in a house that has 2 double bed and 2 triple bed rooms. Each room has a separate bathroom with shower and towels. The whole house is built in the traditional mountain style, with stone walls and natural wood furniture, and the rooms have central heating, so they are suitable for staying at any time of the year.
In the courtyard of the house, surrounded by greenery, guests can use the outdoor swimming pool with hot mineral water, a beautiful terrace for sunbathing, deck chairs and parasols. As the children are always our favorite guests, a shallow pool and a playground are provided for them. Pool stay is free. Beside beautiful nature, peace and tranquility, guests here can enjoy the specialties of Serbian local cuisine and always fresh, healthy food. Depending on the season, guests can also buy various household products. Also, a free, wireless internet connection is available throughout the property.
The mountain environment, pasted with pastures is ideal for long walks, collecting forest fruits and herbs, as well as cycling through forest paths. For this purpose, the household has 4 bicycles to use. In the neibourhood of household flows Lopatnica River, which is characterized by clear and clean water and ideal for sport fishing.
During the vacation there is a possibility to visit medieval cultural and historical monuments of exceptional value: the Zica monastery, Studenica, as well as the Maglic fortress.
Contact: tel.036 / 825-005, 063/582 018, e-mail: hostomilojevic@gmail.com, www.agritur-milojevic.com